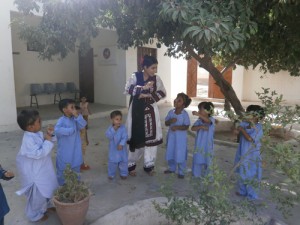 Building on the success of its MediHealth clinics, the Latif Kapadia Memorial Welfare Trust initiated a summer school for children aged 6-10 at MediHealth-3, Sualeh Mohamed Goth, in June 2013. Understanding the difficulty for children from uneducated communities to excel at school work, this summer school was intended to assist local school going children in achieving academic success.
After a positive response from the community, it was decided to expand the initiative into an educational program. Starting with ten Montessori age children, the number of students gradually rose to 86; 60 Montessori aged and 26 older children of classes 1-8.
At present, the students at the Latif Kapadia Memorial Welfare Trust educational center are taught English, Urdu and Math six days a week by four local teachers. "I teach Sindhi to students from class 6 to matric at the Quaidabad TCF school," says teacher Rashida Mughal, "In the afternoons I help the students here with English, Urdu and Math. It is easy to teach them Math as they grasp the concepts quickly but Urdu and English are difficult for them to understand. Most of these children come from uneducated Balochi speaking families where Urdu and English are never spoken. This is why they need extra help."
Fourteen year old Ambreen is a position holder in class 7 at the TCF school, Quaidabad. She has been coming to the center for the past two months. Ambreen's mother passed away and her father is unemployed. Her best friend Saira is a student of Class 8 at the same school and is also a position holder. 'We like studying and it is more enjoyable here as we are studying with our friends.'
At the moment the students at the educational center bend over their textbooks on old durris laid out on the classroom floors. We would like to appeal to our supporters to donate furniture, childrens' books and educational toys for them.